It's been a busy week, and my husband has been good about hogging the computer and camera because the semester is winding down for him. I have definitely had some time to do some gardening though! I'm sorry this will probably be a long post, and probably heavy on the pictures.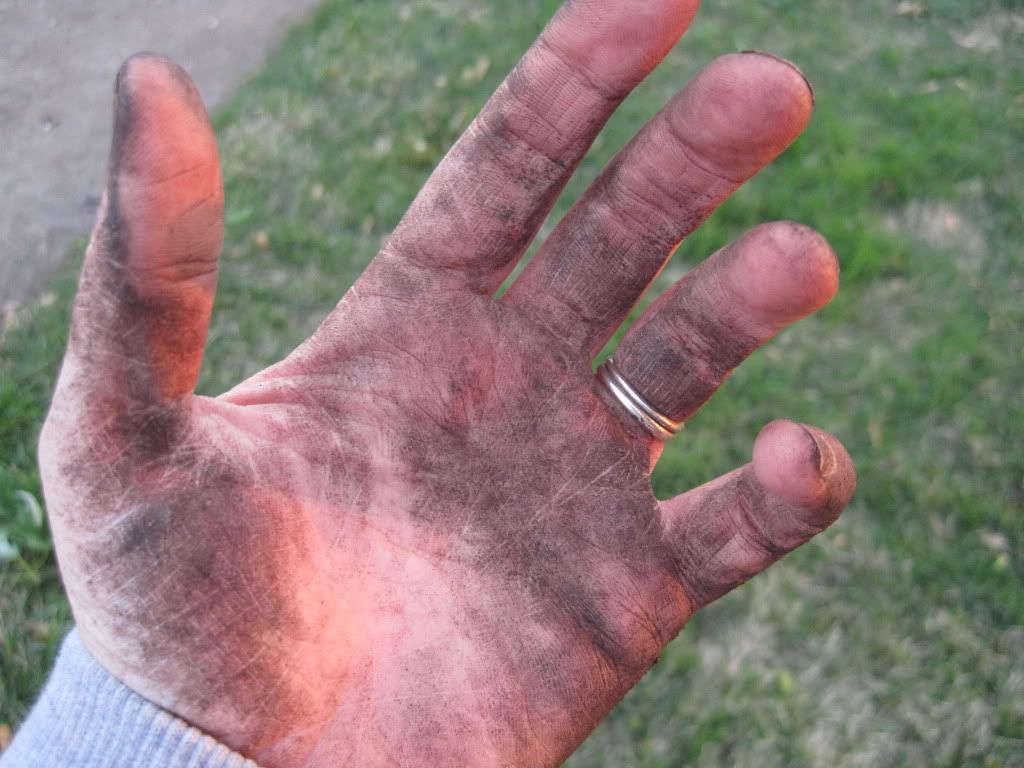 Gardening evidence
Thursday 4/28:
Transplanted all 20 tomatoes and 20 peppers, as well as three marigolds, and a basil plant. *I decided that whatever it was that was harming my tomatoes (which no one could seem to really get an idea about... best guess was edema) hadn't killed them yet, there was no wilting, and what was left looked as if it had "hardened over", I figured I'd bite the bullet and put them in the ground before I'd waited too long.
I also was able to bring over the transplants to Mandi to fill her second 4 by 8 bed. It's nice to see things filling out in her bed. I go over there about once a week. It's so much fun to see a weeks worth of growth at a time!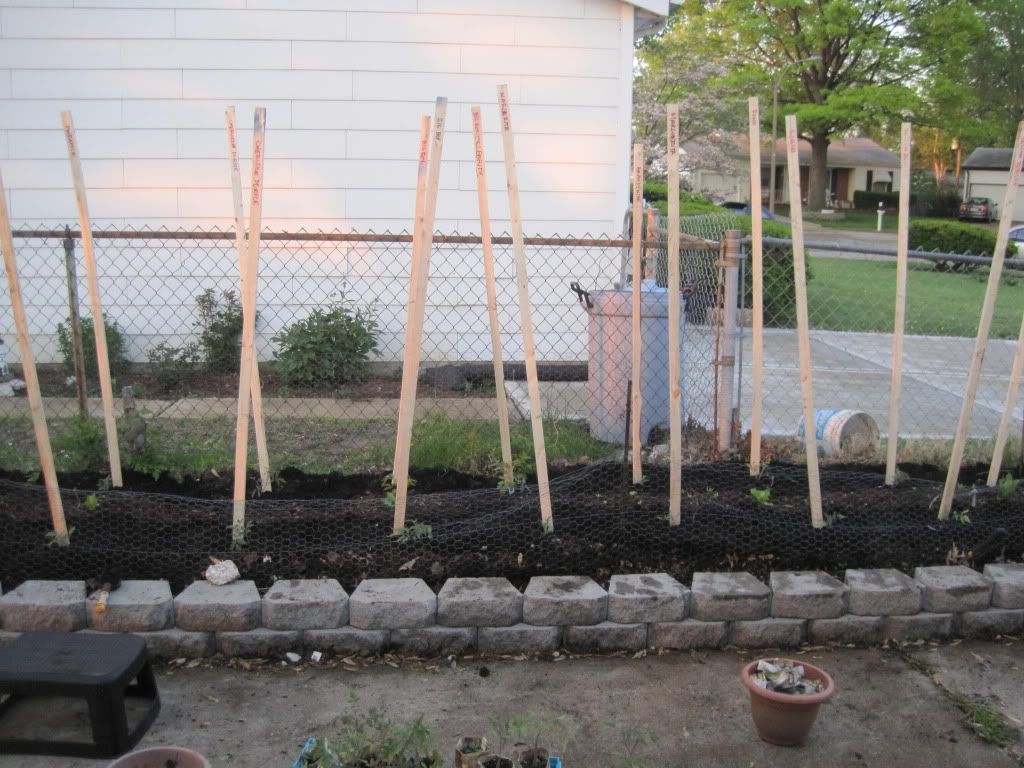 This was a three hour gardening evening. It was a lot of work, but worthwhile. I have the most ridiculous looking tomato stakes out there (culled lumber at Home Depot- 20 8 ft 1x2's cost me around $3.00) They'll work though, and since I still can't find myself a nursing job, saving money is a higher priority than things looking nice.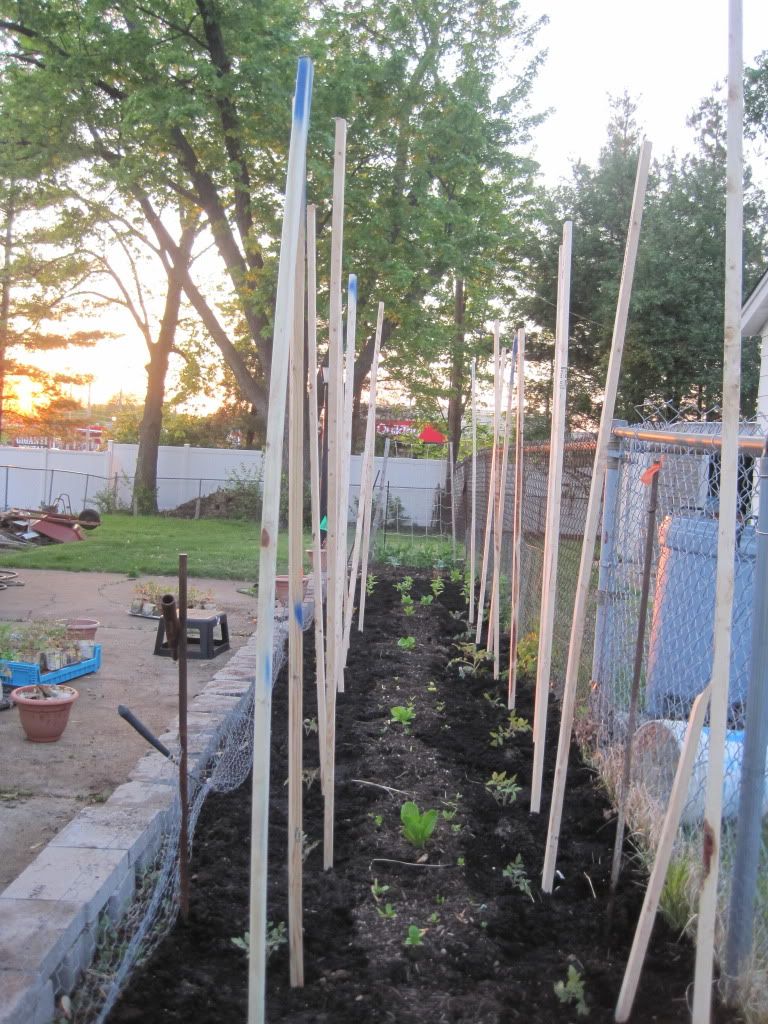 Part of the work included gathering up this year's potential Maple Forest-- I have two maple trees around my house, and another in the neighbors' yard, so everywhere gets loaded with those helicopter seeds. I don't feel I had as many to pick up as last year. Maybe they're not all down yet. I'm hoping it's not that.
Saturday 4/30:
I stole
Granny's
idea with pots from Dollar Tree, drilled holes in them, and transplanted two zucchini, and two yellow squash. I know 2.5 gallons is nowhere near the right size for squash, but I don't want to be feeding the neighbors with squash, and my broccoli is nowhere NEAR done, as I had hoped... (which is where I had planned to interplant my squash initially) so it's an experiment. Who doesn't love a good experiment every now and then. I know I'll be watering them at least twice a day once our June and July heat rolls around, but I wanted to give it a try. My squash was obliterated by the combination of squash bugs and squash vine borers last year, that I figure using containers may be an easier way to contain pests.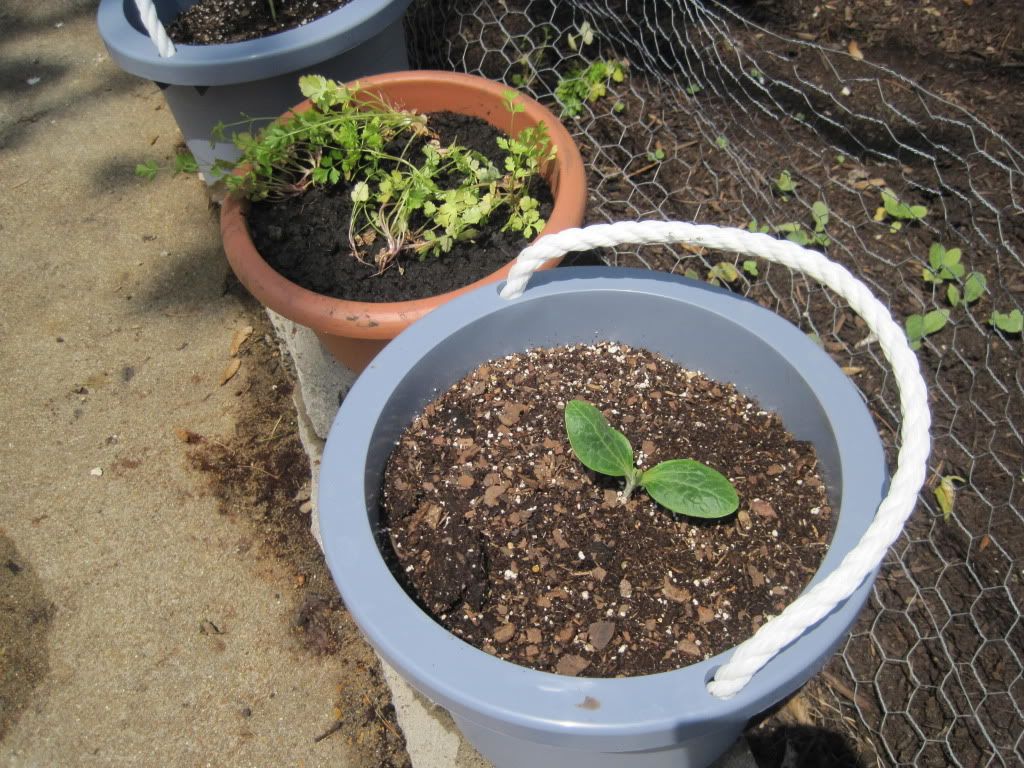 I wasn't planning on doing more than those four plants that day, and my husband was hoping to leave after I was finished to go to make a Home Depot trip, but he had to ask me if I was going to put the rest of the pots on the patio away now, since I'd planted in those four. I told him I had plans for them, and away those plans went.
I potted up cilantro, and garlic chives into one pot (the other one in the photo with the zucchini)
I put impatiens in another, and a cayenne pepper in another one. (I didn't have room for the cayenne pepper in my garden, and I read peppers do well in containers anyway)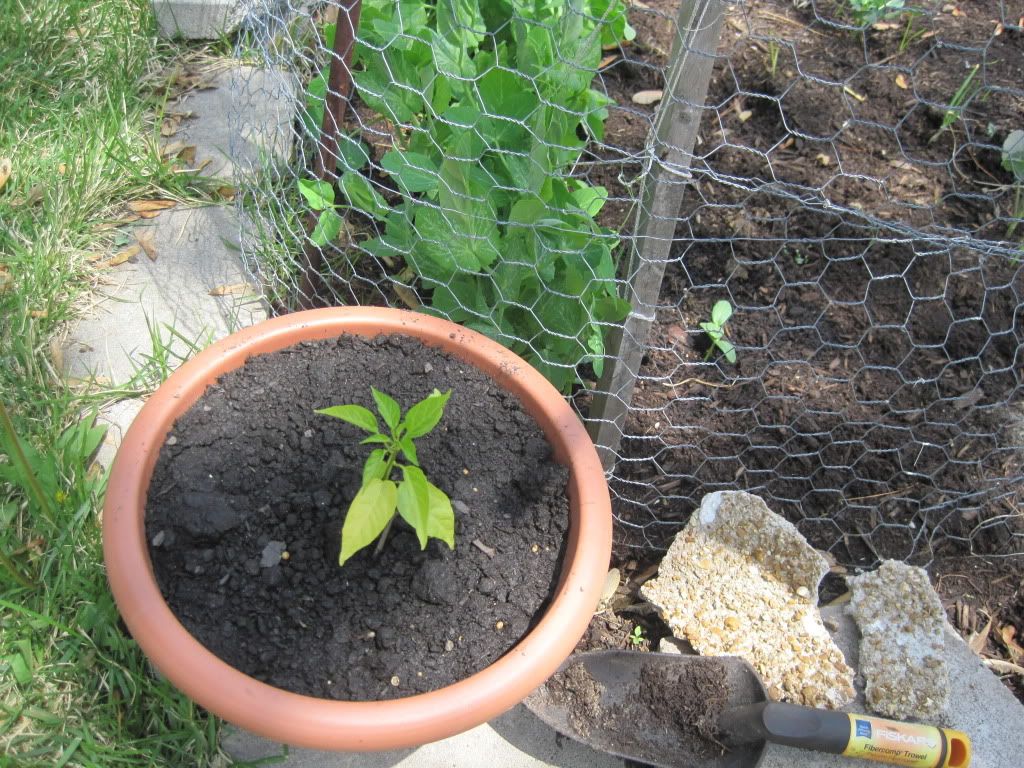 That got the ball rolling, so that's when I planted some of the basil into the ground, some more cilantro went into the ground, as well as a few cucumber transplants.
(Edamame and bush beans were up today as well!)
Sunday 5/1: All tomatoes and peppers (and any other plants I have grown for others) have been delivered, with the exception of my next-door neighbor, but she just got back from vacation, and didn't want to plant them just yet. I still have close to 20 extra tomatoes, and a few jalapenos left. I think the neighbor next to them is going to at least be offered a few plants. I am constantly getting requests for tomatoes, and they are putting "dibs" on my strawberries this year, so I think I'm going to let them grow some of their own! :) (If I have runners from my strawberries that I can give them this year, I plan to do that as well!!) Fortunately, I should be in excess with my strawberries this year, the plants are just LOADED with blossoms and small berries already!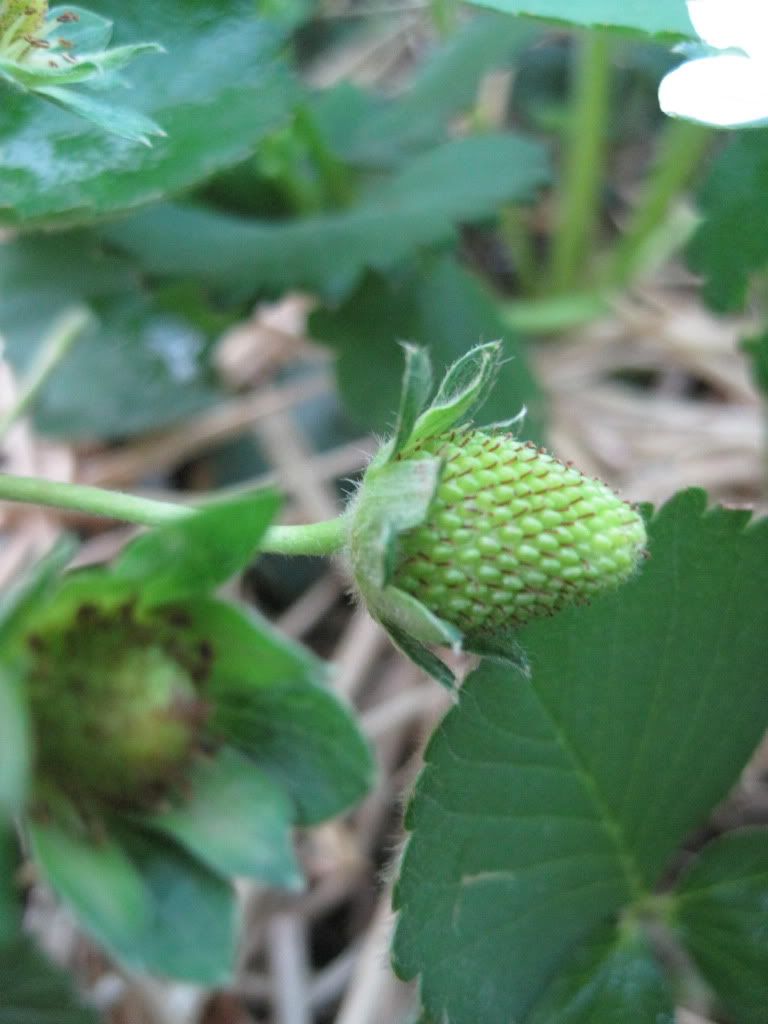 I have had some small harvests, and have been able to use some in meals, but I'll save those pictures for tomorrow.
I can hardly believe it is May already! We're going to have to start watching our turtles behavior in the evening. It's about the time for egg laying, and I don't want to miss it and end up tossing eggs around in the compost pile when it gets turned! It was May 13th last year when Eleanor laid her clutch of eggs, and May 20 something the year before. We've got 4 females, who we KNOW have the opportunity to have had them fertilized this year, so we're going to be on the lookout! I am REALLY hoping for some little turtle babies this year!